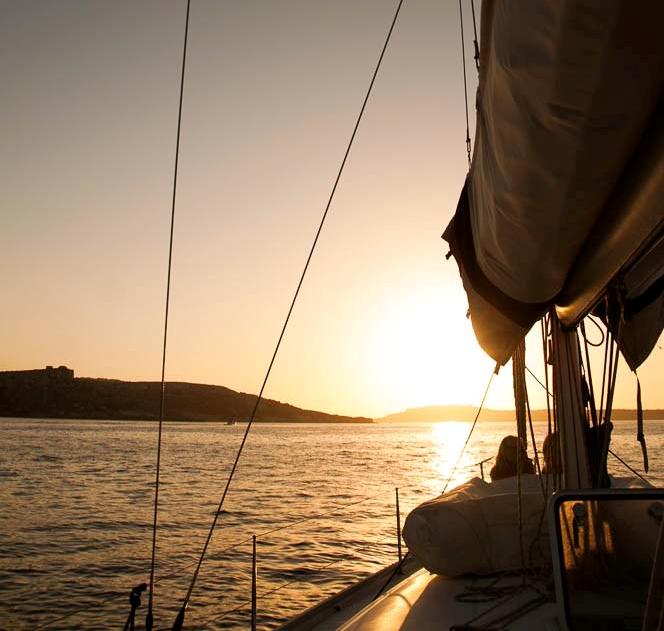 See more
Enjoy a relaxing evening cruise with a group of friends or family on-board one of our sailing yachts. Setting sail from the scenic Valletta Grand Harbour heading east to enjoy sunset views in the west. Guests may enjoy a selection of cold cuts, cheese, dips and other nibbles served with wine, water and soft drinks throughout the evening. There is time for a dip in the sea if you wish. In addition to this we have optional menus available, such as our BBQ menu and our Buffet Menu. To round up the evening we tour the Grand Harbour and 3 Cities, which are all lit up by night providing a superb finale to the evening cruise.
Read more
Gorgeous destinations
We are truly blessed to be surrounded by so many enchanting sailing destinations. Be it a one day sailing trip or more days, we will ensure that the itinerary will be one which will give you an unforgettable experience in a peaceful and relaxed setting.
Payment Terms and Cancellation Policy
A Deposit is required to confirm booking. The remaining balance shall be paid on the day of the charter. Full Deposit shall be refunded if charter cannot be done due to weather conditions.
Reliable
We are committed to provide you with the most reliable service possible. Right from the first contact up to the service delivery, we follow upon every detail to ensure that you are provided with the best boat charter experience in Malta.
Stress free
We understand that you are looking for a stress free yacht charter experience which you will cherish for a long time. This is why we are very attentive to your needs. We provide a personalised service and above all rest assured to be sailing with the best!
Terms and Conditions
Price Includes
Professional skipper & fuel
Free flow of water and soft drinks
Cheese and meat platter with dips and water biscuits
Fresh ftira wedges
Half bottle of wine per person
VAT or any other Local Tax
On-board Dinning (Optional):
A number of optional homemade BBQ menus are available at a very reasonable price.
– View our BBQ menu
– View our Buffet menu
Discounts:
A 5% discount will be given on early bookings (Minimum 3 months in advance)
A 5% discount will be given when taking more than one boat
Time:
Starting time is at 19:00
Disembarcation time is at 23:00
Alternate times can be catered for
Other Info:
Winter Rate – 1st October to 30th April
Summer Rate – 1st May to 30th September
An extra hour on board costs €40
* Catamarans terms & conditions may vary
Payment Terms:
A deposit is required to confirm booking.
Remaining balance shall be paid on the day of the charter.
Full deposit shall be refunded if charter cannot be done due to weather conditions.
Boats available for Evening Cruises